Description & Identification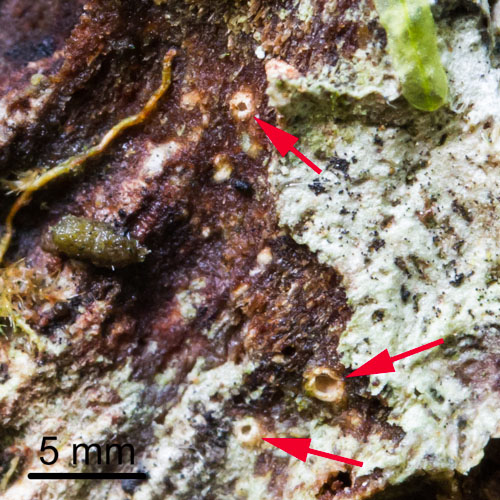 An elusive and (in the dry) practically invisible, 'ghost' species, on account of it having no external thallus to speak of, together with pale-coloured, embedded apothecia (almost the same colour as the bark on/in which it grows), which when dry retract and are entirely concealed within the bark. The small, c. 0.5mm diam., pallid apothecia have sunken, concave discs, and on damp bark emerge flush or slightly raised on the surface to appear as dainty dimples clasped by a ring of torn bark, usually singly, or in loosely dispersed groups. The apothecia are soft, with a jelly-like consistency. Finding this species is something of a challenge, requiring a combination of a powerful hand-lens, extreme patience, favourable weather (rain!) and good fortune.
Similar Species
R.dictyospora is indistinguishable from, and therefore confusable with, other pale-fruited Ramonia spp. if identification is attempted speculatively in the field. It is one of two British Ramonia spp. with muriform ascospores. The other pale-fruited species have elongate, trans-septate ascospores. The rarer R.nigra, as yet unknown in Wales, has black apothecia, as too does Xerotrema quercicola, a recently described species of decayed bare Oak lignum known in Wales from Coed Crafnant & Coed Ganllwyd. Confusion is also possible with thallus-less, extreme shade morphs of Gyalecta spp., but that genus lacks the characteristic 'textura angularis' construction of the proper exciple in Ramonia. Non-lichenised Stictis spp. prefer harder, bare lignum, often on wounded parts of trees, have very long (>150um) filiform spores and ascomata lacking the 'textura angularis' of Ramonia. 
Habitats
R.dictyospora occurs on light-textured, distinctly base- and nutrient-rich, usually slightly decomposed bark, mostly on the trunks of mature broadleaved trees in rather open woodland or wood-pasture. In the New Forest in Hampshire it has been found on decaying lignum inside a hollow Ilex aquifolium trunk. Interestingly, R.dictyospora seems to have an association with old woodlands which have been structurally modified historically, perhaps over a century previously, or old trees in secondary woodlands, and seems to preferentially select trees close to rivers or streams. 
Distribution
Described by Coppins (1987), this species has a scattered distribution throughout Britain, but has not yet been found abroad and is considered endemic. It is known from Scotland, where it is very locally frequent in some sites, S.England (Devon to Sussex and Oxfordshire) and was discovered in Wales for the first time in 1998 by Neil Sanderson.
Records from Wales
Since the 1998 discovery R.dictyospora has been found at six additional sites in mid- & northwest-Wales. These recent finds create a strong impression that it is perhaps increasing, or at least becoming more detectable by more frequent fruiting, stimulated perhaps by elevated bark fertility from nitrogenous compounds in rainfall. 
Notes on individual locations
Coedydd Aber, v.c.49, Caernarfonshire: in old-growth, mixed-deciduous pasture-woodland (phorophyte unknown), Aber Valley, Coedydd Aber NNR, GR23(SH)66-70- & 66-71-, December 1998, N.A.Sanderson. 1st Welsh record.
Coed Ganllwyd, v.c.48, Merionethshire: on spongy bark of Ulmus glabra & Quercus in ravine woodland, Coed Ganllwyd SSSI/SAC, GR23(SH)72-24-, October 2005, Coll. N.A.Sanderson. Herb. Sanderson 932 (Sanderson, 2006). 1st v.c.48 record.
Rhyd-Rosser, v.c.46, Cardiganshire: on damp, light, base-rich bark, on the NE side of the trunk of a large old Quercus in sheltered, streamside woodland, below the road bends opposite Plas Howell, near Rhyd-Rosser, SE of Cwm Mabws, GR22(SN)563677, alt c.110m, December 2009. Coll. S.P.Chambers. Herb. SPC. 1st v.c.46 record. Three apothecia detected. 5ft up the trunk, associated with Anisomeridium polypori (fertile) and Lepraria lobificans (Chambers, 2010).
Afon Cyneiniog, v.c.46, Cardiganshire: frequent apothecia in dispersed groups on damp, low density, soft bark on mossy trunk of large old Quercus in strip of modified riparian woodland on the N bank of the Afon Cyneiniog, by Coed Brynyfedwen-fawr, E of Cwmere, GR22(SN)703882, alt 150m, September 2010. Coll. S.P.Chambers. Herb. SPC. The tree rather hemmed in by abundant Acer pseudoplatanus saplings close to coniferised fringe (Chambers, 2011). Tree refound and presence of R. dictyospora confirmed October 2012. 
Cwm Mabws, v.c.46, Cardiganshire: on damp, soft bark, on NE side of trunk of mature Fraxinus excelsior in modified woodland (with old field banks), Cwm Mabws, GR22(SN)560683, alt 70m, December 2010. Coll. S.P.Chambers. Herb. SPC, (Chambers, 2011).
Gilfach, v.c.43, Radnorshire: on decaying, damp bark on NW side of Fraxinus excelsior on the N bank of the Afon Marteg, Gilfach Nature Reserve (Radnorshire Wildlife Trust), near Rhayader, GR23(SH)962713, alt 240m, October 2011. Coll. S.P.Chambers. Herb. SPC. 1st v.c.43 record.
Afon Cwmere, v.c.46, Cardiganshire: several apothecia on damp bark on NW side of trunk of mature Fraxinus excelsior, in wet, open, wood-pasture, by the Afon Cwmere, GR22(SN)686880, alt 140m, March 2012. Coll. S.P.Chambers & H.F.Clow. Herb. SPC. 
Threats and Status
Loss of host trees from inadvertent or accidental felling, or for reasons of perceived health and safety, or from natural events, e.g. trees being blown down in storms.

Changes in bark characteristics (increased or decreased shade, alterations in moisture retention, drying, pH, nutrient-loading etc) from changes in woodland management, seral development and/or atmospheric pollutants.

On the Wales Lichen Red List R.dictyospora is classed as Vulnerable (D2) and on the British Red List as Near Threatened (NT). The species is Nationally Rare, Endemic (as far as we know, with implied International Responsibility) and s.42 NERC listed, though being an archetypal example of a 'hard-to-find' lichen it is possibly more frequent than records suggest.  
Proposed Actions
Lichenologists should familiarise themselves with the species and attempt to hunt it down on likely-looking trees in new localities. Re-surveys of trees known to support R.dictyospora could be carried out at the various Welsh sites at different times of year to see if there is a seasonal pattern to ascocarp production and whether the species persists (and if so for how long) on its host trees, or is more transient.
UK BAP Actions for Welsh lichens:
Monitor habitat condition and species, at least every 6 years, at extant sites to ensure that the management maintains continuity of mature basic-barked trees, current light and humidity levels and that the population is not subjected to over-shading (e.g. Ivy, Rhododendron ponticum) and modify accordingly.

Encourage survey of suitable woodland sites within expected range and incorporate new sites into the monitoring and protection framework.
NBN Taxon Key
NBNSYS0000039740
References
Coppins, B.J. (1987) The genus Ramonia in the British Isles. Lichenologist 19(4):409-417.
Sanderson, N.A. (2006) In New, Interesting and Rare British Lichen Records, Bulletin of the British Lichen Society, No. 98, Spring 2006.
Chambers, S.P. (2010) In New, Interesting and Rare British Lichen Records, Bulletin of the British Lichen Society, No. 106, Summer 2010.
Chambers, S.P. (2011) In New, Interesting and Rare British Lichen Records, Bulletin of the British Lichen Society, No. 108, Summer 2011.
Sanderson, N.A. & Purvis, O.W. (2009) Ramonia. In The Lichens of Great Britain and Ireland (C.W.Smith, A.Aptroot, B.J.Coppins, A.Fletcher, O.L.Gilbert, P.W.James & P.A.Wolseley, eds): 788-790. London: British Lichen Society.