Description & Identification
The thallus of this species is dull green, grey-grey, white or fawn in colour and finely granular. The apothecia are 0.3-0.8 mm diam., dark purple-brown to black, sometimes becoming convex. The margin is thin, paler than the disc.
Occasionally found sterile, although inconspicuous pycnidia are usually present.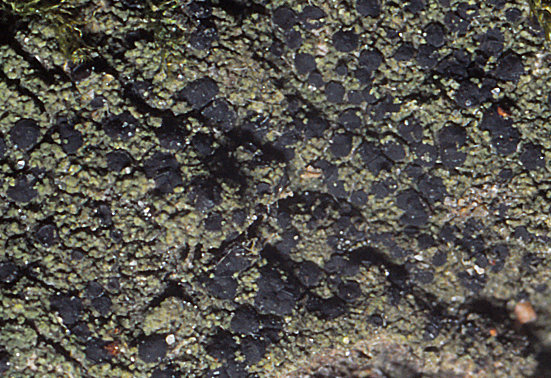 Photo: Vagn Alstrup
Habitats
 On trunks of trees with basic bark, especially elm. Sometimes exposed roots of elm on cliff faces.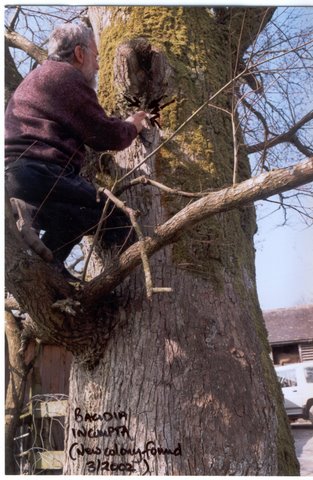 Ray Woods "up a tree" (a Wych elm) with Bacidia incompta. Pen-y-Rhiw, Llysdinam.
Distribution
Europe, N. America. In Britain mainly Southern England and Wales, with scattered records in parts of Scotland and Ireland.
Records from Wales
| | | | | |
| --- | --- | --- | --- | --- |
| Location | Grid Reference | Last Rec'd | Recorders(s) | SSSI |
| Brecknock: Three Cocks | SO165373 | 1981 | R.G. Woods | ? Afon Llynfi |
| Brecknock: U. Cwm Bridge, Llanbedr, Crickhowell | SO241203 | 1982 | R.G. Woods | ? River Usk Tribs |
| Brecknock: Pen-y-Rhiw, Llysdinam | SN993581 | 2002 | R.G. Woods | No |
| Brecknock: Llanbedr Church, Crickhowell | SO240204 | 1983 | P.W. James |  No |
| Brecknock: Llanbedr, Crickhowell | SO243203 | 1995 | R.G. Woods | ? River Usk Tribs |
| Carmarthen: Dinefwr Estate - Castle Woods | SN 615 216 | 1981 | R.G. Woods | Yes |
| Glamorgan: Bridgend - Newbridge Fields | SS 90 79 | 1945 | F.A. Sowter |  No |
| Glamorgan: Bridgend - Ogmore River | SS 90 79 | 1957 | A.E. Wade | No |
| Glamorgan: Dyffryn Gardens | ST 09 72 | 1967 | A.E. Wade |  No |
| Montgomery: Afon Cwm - Clegyrnant Rhyd-y-Meirch | SH 91 06 | 1976 | P.W. James | No |
| Montgomery: Mochdre Dingles Nr. Newtown | SH 08 | 1976 | P.W. James | Yes |
| Radnor: Evencoyd Park | SO258626 | 1983 | R.G. Woods | No |
| Radnor: Stanner Rocks | SO263583 | 2010 | R.G. Woods | Yes |
| Meirionydd: S of Pont Felin-y-llan, llanfachreth | SH7492721961 | 2011 | R.G. Woods A.Orange | No |
Notes on individual locations
Dyffryn Gardens - surveyed by Alan Orange in 1988, specifically for B. incompta. The species was not refound and Alan notes the generally poor lichen flora and the unlikelihood of suitable phorophytes for B. incompta occurring at the site.
Bridgend, Ogmore River - Alan Orange surveyed in 1997 and concluded B. incompta was extinct at this site.
Threats and Status
Given the almost total loss of mature elms from the Welsh landscape it now appears likely that only three colonies remain viz the Llanfachreth, Meirionydd colony, the Penrhiw colony in Brecknock and the Stanner colony in Radnor. The tree beside the Llynfi at Three Cocks is long dead and gone as are the elms at Evencoyd. The bark persisted long on the dead elm beside the river at Llanbedr  and the lichen still looked healthy in 1995 but the tree had completely gone by early  in the 2000s. At Stanner this lichen was first seen by me in c1981. This tree died soon after and it was not until 2008 when a number of elms had regrown that I thought it worth resurveying Stanner for this and Collema fragrans formerly found here on elm. Given that boulders often crash down the cliffs and falling trees can damage others there was a real possibility of the elms here being regularly damaged and the possibility of a sap weep being formed was higher here than in many other sites. My search was rewarded by the discovery of a large colony beside a permanent sap weep. Every effort should be made to survey basic woodlands with elm below unstable cliff lines elsewhere in Wales. 
A green crust beside a sap weep was noted in 2009 on a large roadside wych elm just to the east of the road south of Pont Felin-y-llan, Llanfachreth and at the northern end of the Nannau Estate but the author was unable confirm it was this species as no fruits were present. In 2011 the author and Alan Orange re-examined the tree and the latter was able, through the presence of charactoristic pycnidia, to confirm that this crust was indeed B. incompta.  (RGW)
Proposed Actions
UKBAP Signposting Actions:
1.

 

Maintain all known populations by informing owners of importance of host trees, instituting a surveillance visit at least once every 3 years, except in the New Forest, controlling ivy and, if feasible, the creation of new sap weeps as well as ensuring a continuity of host trees.
2.
New Forest sites: establish detailed monitoring in sites where the lichen is still frequent.  Research is needed into the relationship of this species, and other wound tack species, with dynamics of Beech pasture woodland.  Poorly understood issues include colonisation and establishment of lichen species within wound tracks and the formation of these niches in relation to the dynamics of Beech - Oak pasture woodland.  Increased knowledge of these issues should aid understanding of the promotion and conservation of diversity with Beech stands both in ancient native sites and where the tree is a recent arrival.  It should also give an indication of the scale of habitat required to conserve this species.
NBN Taxon Key
NHMSYS0001475427
References
Orange, A. (1997). A baseline survey of rare lichen species in South Area. Report to CCW.
Woods, R.G. (2003). Lichen Flora of Brecknock. Published by the author.