Description & Identification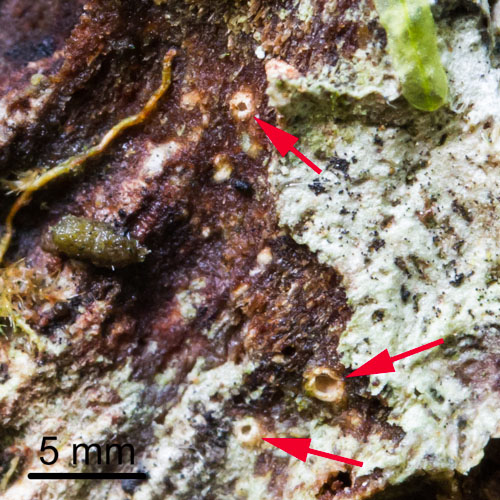 An elusive and (in the dry) practically invisible, 'ghost' species, on account of it having no external thallus to speak of, together with pale-coloured, embedded apothecia (almost the same colour as the bark on/in which it grows), which when dry retract and are entirely concealed within the bark. The small, c. 0.5mm diam., pallid apothecia have sunken, concave discs, and on damp bark emerge flush or slightly raised on the surface to appear as dainty dimples clasped by a ring of torn bark, usually singly, or in loosely dispersed groups. The apothecia are soft, with a jelly-like consistency. Finding this species is something of a challenge, requiring a combination of a powerful hand-lens, extreme patience, favourable weather (rain!) and good fortune.
Similar Species
R.dictyospora is indistinguishable from, and therefore confusable with, other pale-fruited Ramonia spp. if identification is attempted speculatively in the field. It is one of two British Ramonia spp. with muriform ascospores. The other pale-fruited species have elongate, trans-septate ascospores. The rarer R.nigra, as yet unknown in Wales, has black apothecia, as too does Xerotrema quercicola, a recently described species of decayed bare Oak lignum known in Wales from Coed Crafnant & Coed Ganllwyd. Confusion is also possible with thallus-less, extreme shade morphs of Gyalecta spp., but that genus lacks the characteristic 'textura angularis' construction of the proper exciple in Ramonia. Non-lichenised Stictis spp. prefer harder, bare lignum, often on wounded parts of trees, have very long (>150um) filiform spores and ascomata lacking the 'textura angularis' of Ramonia. 
Records from Wales
Since the 1998 discovery R.dictyospora has been found at six additional sites in mid- & northwest-Wales. These recent finds create a strong impression that it is perhaps increasing, or at least becoming more detectable by more frequent fruiting, stimulated perhaps by elevated bark fertility from nitrogenous compounds in rainfall. 
NBN Taxon Key
NBNSYS0000039740