Description & Identification
One of the few readily identifiable green/grey beard lichens when well grown. Its straggly, hair-like, tangled, usually unattached stems that can be up to a metre long, swell at intervals along the main branches to create small green/grey sausage-like strings c 3mm in diam. Young material without pronounced swellings could be confused with other species but in U. articulata the medulla reacts by going red with Pd.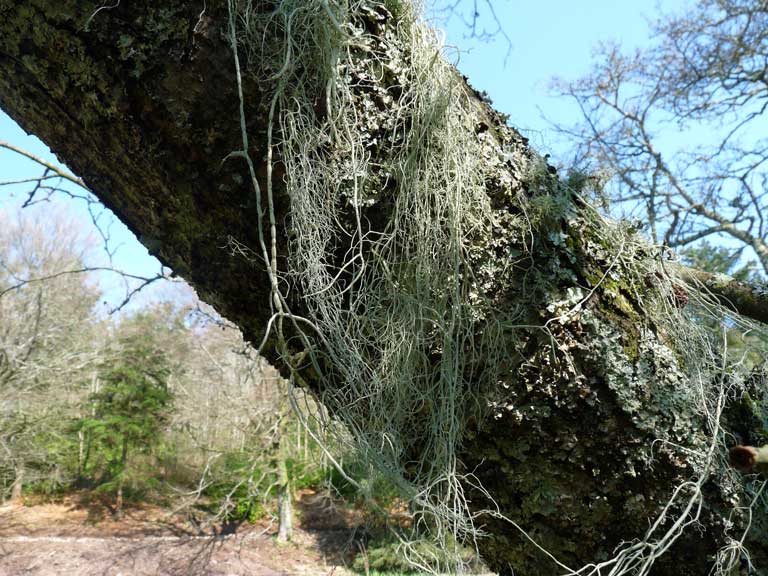 Photo:Ray Woods
Habitats
It occupies an odd array of habitats in Britain being very rarely terricolous in sand dune slacks, scrambling over low vegetation but most frequently draping itself over branches, twigs and trunks of trees favouring but not exclusive to open, exposed sites. When high up in the canopy it can be difficult to spot and a search of the ground after gales or snowfall may be a more profitable way of discovering it in new sites. It is highly sensitive to sulphur dioxide.
Distribution
Now frequent only in southwest England where it is found from the New Forest west to central Cornwall. It was formerly recorded from a number of sites in the English Midlands and in the North East of England but its sensitivity to sulphur dioxide resulted in its rapid extinction from these areas at the start of the industrial revolution. In Wales it similarly only occurs in any abundance in Pembrokeshire where it has been recorded from a range of woodland habitats including upland oakwood and coastal willow carr. Sulphur pollution may have significantly reduced its range in mid Wales. There were large specimens noted by Smith at Hafod, Cardiganshire in the 1780s. Recently it was believed to be confined in Cardiganshire to a single small willow in a bog. Steve Chambers now reports the willow to have grown substantially but the Usnea to be lost from this site. It was returned to the vice-county list by its discovery by Sam Bosanquet on an exposed hawthorn near to the highest point of the road from Cross Inn to Lampeter in 2011. The record from Pant y Llyn in Carmarthenshire was thought to have been of an introduced colony until the British Lichen Society in Oct 2010 discovered it not far away on two old apple trees in a walled garden at Glynhir near Llandybie. It was also found due to the sharp eyes of Sam Bosanquet on a roadside oak in the north of the vice-county near Brechfa. In Glamorgan it has been known for about 20 years from the ground in the sand dunes on the edge of Pennard golf course, its only known occurance in this habitat in Wales. Elsewhere as a terricolous species in dune slacks it is known from the Isle of Man and north Norfolk. Elsewhere in Glamorgan Sam Bosanquet found it in 2011 on a dying alder by a pool at Oxwich and in 2009 it was found in the Penllergaer Woods by Kevin Davies et al.  Records from North Wales are sparse. Pentecost (1987) considered it likely to be extinct. Simon Davey, however, noted it near Allt y Benglog, Dolgellau in 2002 and the author and Joanna Clark found it on a dead hawthorn and nearby oak high on a ridge to the west of Nannau, Dolgellau in 2011. 
It occurs rather rarely in south and west Ireland. It has been rendered extinct in many parts of mainland Europe, surviving in Brittany. It occurs in mountainous areas of east and North Africa, Saudi Arabia and the Atlantic and Mediterranean Islands.
The distribution map appended here is very misleading as a record of current status probably as a result of many pre industrial revolution records being included.
NB: THIS ACCOUNT NEEDS SOME AMENDMENT IN THE LIGHT OF RECENT DISCOVERIES IN SOUTH WALES - SEE THE REPORT BY SAM BOSANQUET ATTACHED BELOW 
Threats and Status
It is very sensitive to sulphur dioxide pollution and requiring an acidic substrate may also be sensitive to ammonia pollution. So far no great extension in range has been noted following the almost total elimination of sulphur dioxide as an atmospheric pollutant. This may be due to an apparent absence of spore production in Britain precluding long distance dispersal. Other Usnea species such as the regularly fertile U. subfloridana have now recolonised parts of the English midlands. The author has transplanted Usnea articulata from Devon into his front garden in North Brecknock where it has survived for several years but has not spread or prospered. In Devon many Usnea species appear to have declined in abundance and a tentative link with agricultural intensification made. Some of the Pembrokeshire populations occur close to some of the most intensively farmed parts of Wales though may be buffered from its worst effects by local topography and the close proximity to the sea providing relatively clean air from a westerly direction. Some acidic atmospheric pollutants may also help create the acidic bark conditions by this genus. The British population of this species is considered to be an internationally important population. It is accorded Near Threatened status in Britain but is considered to be Vulnerable in Wales. It is a national BAP species and is listed on Sect 42 of the NERC Act in Wales.
NB: THIS ACCOUNT NEEDS SOME AMENDMENT IN THE LIGHT OF RECENT DISCOVERIES IN SOUTH WALES - SEE THE REPORT BY SAM BOSANQUET ATTACHED BELOW 
NBN Taxon Key
NBNSYS0000019134