synonyms
Opegrapha lentiginosa Lyell
Description & Identification
A lichenicolous fungus with the thallus immersed in host lichen. Apothecia are abundant, black, minute, 0.15-0.5 x 0.1-0.2mm, oblong to ellipsoid, slit-like (lirellate). Ascospores 1-septate, sole-shaped, brown.
Weakly parasitic; overgrowing the thallus of the crustose lichen Phaeographis dendritica. In those infected areas of the thallus the apothecia of the Phaeographis are suppressed and in extreme cases may be absent with Melaspilea covering the whole thallus. 
Similar Species
Unlikely to be confused with any other species, the small fleck-like apothecia growing in Phaeographis dendritica is distinctive.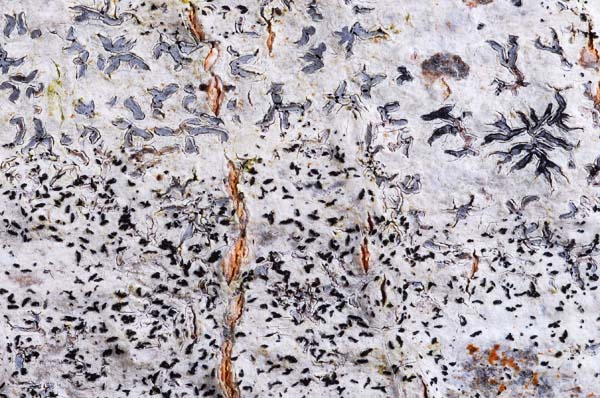 Habitats
On Phaeographis dendritica on old trees (mostly beech, holly or rarely sycamore) in ancient woodland, pasture-woodland and parkland; or very rarely old apple trees in an old garden. On these trees Phaeographis is part of the smooth bark Pertuasietum amarae or Graphidetum scriptae communities found in old woodland. The ecology of Melaspilea lentiginosa is not well understood but its occurrence is much narrower than the host. The fungus is most frequent in little disturbed old growth stands with an abundance of the host.
Distribution
Very local in southern and southwest England. Occasional and widespread in the New Forest with scattered sites in Cornwall, Devon, Dorset and South Somerset. Very rare in southwest Wales (Pembrokeshire). Outside of the British Isles there are scattered records from Ireland, France (Brittany) and Hawaii (Smith et al., 2009).  
Records from Wales
Confined to the south Pembrokeshire but no other data with the record. The host Phaeographis dendritica is quite local in Wales, any site in Pembrokeshire with large populations should be surveyed.
| | | | | |
| --- | --- | --- | --- | --- |
| Site | Grid Ref | Last seen | Recorder | Comments |
| Pembroke | SN00 | ?? | BLS mapping scheme | No other details |
Threats and Status
Threats
Loss of the host lichen through inappropriate management of old trees, particularly beech.

Lack of continuity of old smooth barked trees.

Lack of management of ancient woodland, woodland pasture or parkland.

Development of dense shrub layers, climbers or invasive exotics.
Conservation status
Internationally Responsibility

Section 42 (NERC Act 2006)

UK BAP Priority

Not Evaluated in Wales Red Data List (Woods, 2010)

Near Threatened in British Conservation Evaluation (Woods & Coppins, 2012)

Nationally Rare
Proposed Actions
The following summarises the UK BAP signposts (2007) with respect to Wales.
Monitor species and habitat condition for a sample of extant sites at least every 6 years.

Maintain populations of its host lichen, Phaeographis dendritica, through appropriate habitat management, ensuring a continuity of smooth barked species of old tree.

Encourage survey of suitable woodland sites within expected range (SW Wales) and incorporate new sites into the monitoring and protection framework.
NBN Taxon Key
NHMSYS0001489300
References
Smith, CW, Aptroot, A, Coppins, BJ, Fletcher, A, Gilbert, OL, James, PW & Wolseley, PA (2009) The Lichens of Great Britain and Ireland. London, British Lichen Society.
Woods, R. G. (2010) A Lichen Red Data List for Wales. Plantlife, Salisbury.
Woods, R.G. & Coppins, B.J. (2012) A Conservation Evaluation of British Lichens and Lichenicolous Fungi. Species Status 13. Joint Nature Conservation Committee, Peterborough.