Description & Identification
This species is marked by abundant, bright-orange apothecia (generally 0.3 - 0.5 mm dia) crowded and often contiguous on an inconspicuous grey-white thallus.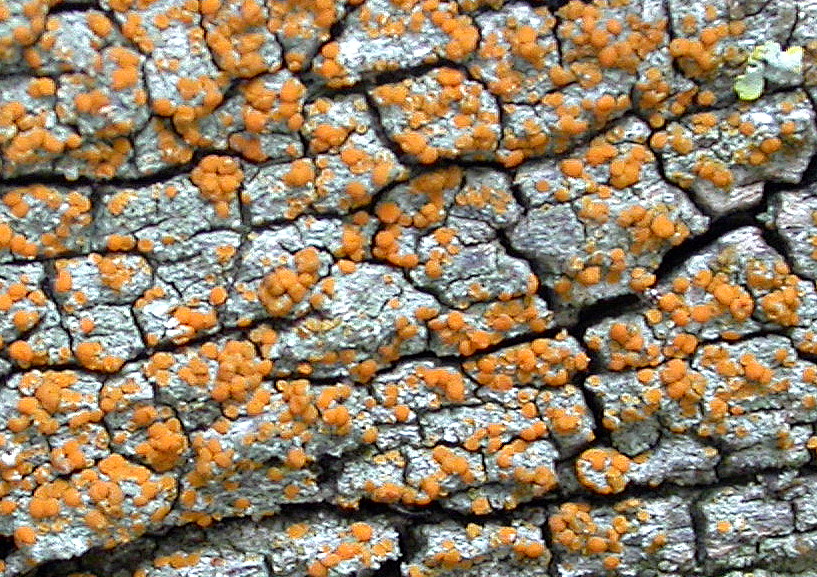 C. luteoalba on decorticated sycamore. (Photo: Ray Woods).
Similar Species
 It can resemble C. holocarpa in the field and a fruit body should be collected to determine spore size. 
Habitats
This species favours well-lit, dry, sunny trees with a basic bark. Before the advent of Dutch Elm disease, elm was its favoured host tree but more recently it has been found in Wales in small quantity on sycamore (see under Threats and Status below)
Elsewhere in Britain it has been found associated with sap weeps on trees such as field maple and on old shot-holed ash trunks.
Threats and Status
This species is another casualty of the loss of elms due to Dutch elm disease. It was probably never very common in Wales, favouring well-lit, dry, sunny trees with a basic bark.There are a number of records at 10km square level that require further work to establish their source. The two pre Dutch elm disease confirmed Mid Wales records of this species are from ornamental parkland at Evenjobb in East Radnor and Llysdinam in North Brecknock. In both sites all suitable elm trees have been lost.  It was last seen in Barons Hill Park Beaumaris in 1972. No elms appear to survive in this site. The most recent record was made by Alan Orange in Plas Heaton Park, Denbighshire in 1996. It occurred in small quantity on the bark of a sycamore close to a dead row of elms. It may still occur here but sycamore is notorious for shedding bark flakes. It should, however be noted that sycamore provides an alternative substrate on old dead wood where the bark has been lost. All well lit sycamores with missing bark should be carefully examined. I discovered a colony in this habitat in Croft Castle Park, Herefordshire not very far from the Welsh border.  Ray Woods.
NBN Taxon Key
NBNSYS0000020545
References
Coppins, B.J & Coppins,A.M. (2001). Caloplaca luteoalba. Species account 266/2001 in the Caloplaca fascicle of the Lichen Atlas of the British Isles produced by the British Lichen Society, London.