Description & Identification
Any non sorediate C- and Pd- yellowish green areolate crust with an abundance of yellowish-green to occasionally pinkish green (not green-black) lecanorine apothecia  on the well-lit trunk of an ancient oak tree (or rarely ash) could possibly be this species.
| | |
| --- | --- |
| | |
| Photo: Ray Woods | Photo: Alan Orange |
This is a member of the Lecanora polytropa group. It has been suggested that this is just a corticolous form of Lecanora sulphurea. Brian Coppins adamantly refutes this (pers. comm.). All other members of this group occur on rock, though L. polytropa does occasionally occur on dust impregnated worked timber. The similar looking and more commonly reported on wood L. confusa and L .symmicta are both C+orange.
The apothecia of L. intricata and L. polytropa usually have a greeni
Habitats
In Wales it is most frequently found on ancient oak trees and rarely on ash, usually in pasture woodlands or in open fields or in hedgerows. Elsewhere it is known from ancient field maple and beech trunks. It never occurs on the branches but is usually found on the well-lit trunks of those ancient trees that have shed lower limbs, so allowing more light onto the trunks whilst providing some shelter from most direct rainfall by overhanging limb bases above. (RGW)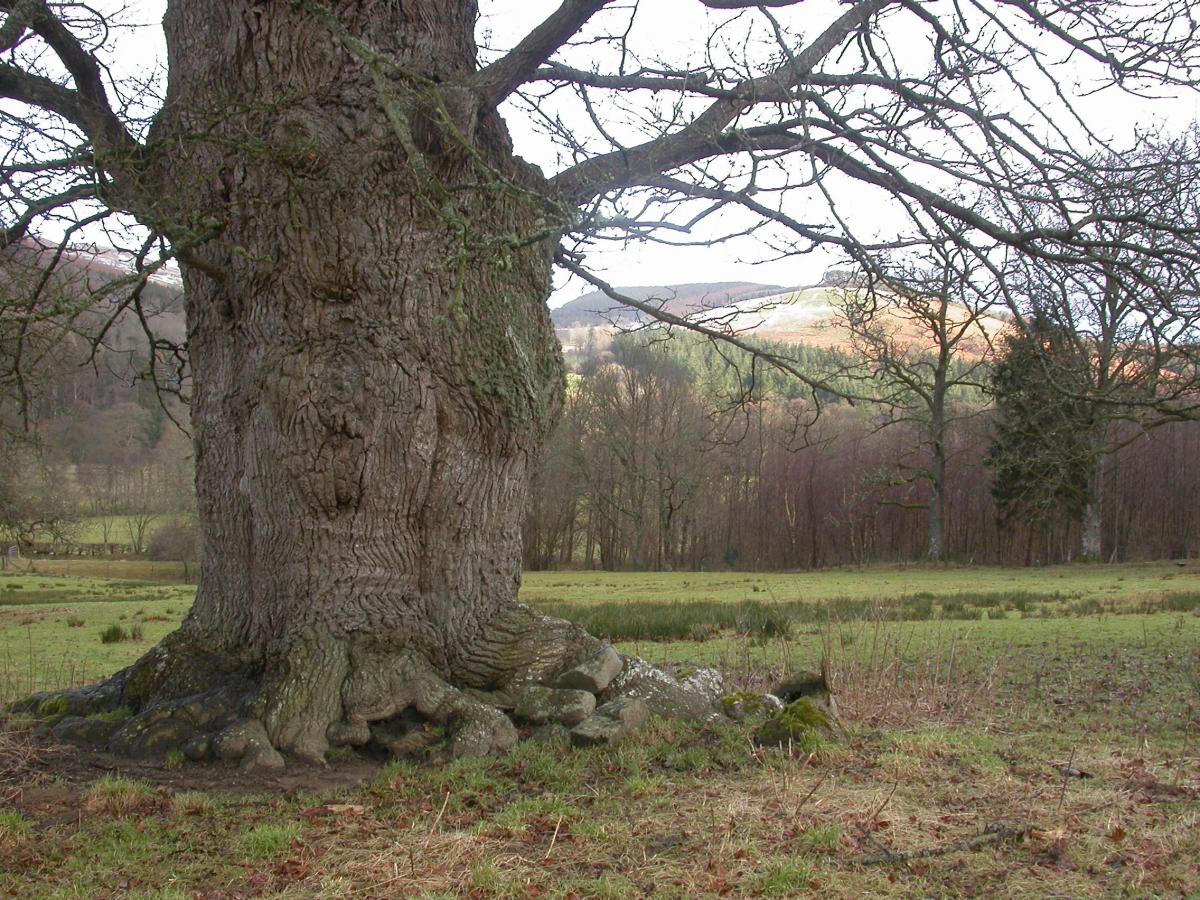 Oak hosting L. sublivescens at Doldowrodd. (Photo: Ray Woods)
Distribution
In England it is reported sparingly from 17 sites in the counties of Kent, Sussex, Hampshire, Dorset, Berkshire, Somerset, Herefordshire and most recently from Derbyshire. In the New Forest, for example, it appears to be known from only 3 trees. There were records before the industrial revolution from Epping Forest and Windsor Great Park.
In Wales it is recorded from 13 sites in Montgomery, Radnor, Brecon, Carmarthen, Pembrokeshire, Merionydd and Denbigh. It occurs mostly on single trees with the exception of a few sites in the Wye Valley below Rhayader. Given its great scarcity on a world scale (it is only known elsewhere from a small area in southern Sweden), the Wye Valley populations between Rhayader and Moccas Deer Park in Herefordshire assume an international importance. (RGW)
Threats and Status
The loss of ancient trees through felling and natural collapse, their shading by climbers such as ivy or evergreen shrubs such as holly and Rhododendron and the eutrophication of bark by farmyard manure and slurry spreading and the use of artificial fertilizers are major threats.  Atmospheric pollutants in the form of acid rain and eutrophication from intensive agriculture are also probably limiting the range of this species.  Any increase in rainfall due to changes in climate may also pose a threat since it appears to avoid areas of high rainfall. Given its presence in Scandinavia its absence from Northern Britain is puzzling. The author recently discovered this species in Derbyshire on an ancient ash pollard near Hadden Hall, Derbyshire-its most northern British locality. This part of Derbyshire has a number of ancient pasture woodlands and parklands associated with the estates of the Dukes of Rutland and Devonshire. Some doubt must be attached to the possibility of this species surviving the pollution of the industrial revolution in the Peak District and this may be an example of fairly recent colonisation. Given the large numbers of apothecia produced by this lichen it may produce large numbers of spores and its scarcity could be due to a lack of suitable trees rather than the result of poor reproductive performance. A shortage of veteran trees must also contribute to the scarcity of this species.
Both nationally and within Wales it is considered to be a near threatened species. The British populations are considered to be of international significance. (RGW)
NBN Taxon Key
NHMSYS0001486477