Description & Identification
Initially parasitic on other lichens establishing and spreading over Enterographa crassa, Schismatomma cretaceum, S. decolorans, S. niveum, Cresponea premnea or Lecanactis thalli. Eventually becoming independent. Thallus crustose, pale rose or pinkish, like compressed cotton wool, becoming crusty.
Pale primrose-yellow "sporodochia" (cushion-like groups of condiophores and associated conidia) are scattered across the thallus.
Both thallus and sporodochia are C+ Red (fleeting).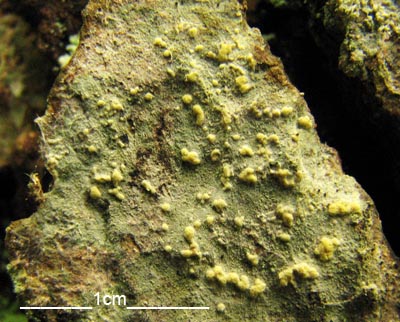 Photo: Alan Hale
Habitats
On dry sheltered bark at bases of Quercus and Ilex in ancient woodlands, predominantly in warm oceanic sites in the extreme SW of Britain. 
Distribution
Spanish Pyrenees and Macronesia. S. & S.W. England, S.W. Ireland, Rare but locally frequent. Only one verified occurrence in Wales - at Coed Cwm Cletwr SSSI - which is apparently its Northenmost World location.
Records from Wales
| | | | | |
| --- | --- | --- | --- | --- |
| Location | Grid Reference | Last Rec'd | Recorder(s) | SSSI |
| Ceredigion: Coed Cwm Cletwr | SN 665919 | 2011 | S.P. Chambers, A.D. Hale, R.G. Woods | Yes |
Note: The BLS database (and hence the NBN Gateway - see map below) holds an unverified record from St Mary's Churchyard, Llanfair, Meirionydd, SH577291, 12/08/1998. The record needs further investigation, but in the meantime is considered doubtful. 
Notes on individual locations
Coed Cwm Cletwr - on base of a single tree - a dying, largely decorticated oak. Its position here appears very precarious as the piece of bark on which it is growing is in imminent danger of dropping off. Urgent action is needed.
Update: RGW notes that by 2011 the tree was dead and Steve Chambers had become concerned that the bark was becoming detached. Alan Hale, Steve, Ray and Ispi Blatchley formulated and executed a plan in May 2011 that involved tying the loose bark back into the trunk using nylon fishing line attached to either adjacent tree roots or metal pins placed well away from the lichen. It was hoped to increase the survival time of the lichen and allow an increased period for propagule dispersal. As Steve and Alan had noted on previous visits the prospects for local colonisation appeared poor. It occured on the sheltered base of the one really large old oak in the wood. The Cletwr woods in common with so many other Welsh woods have been regularly felled in the past, the last near clear-felling may well have been in the second World War. This one oak survived due to its squat, bent form, growing out from a rather difficult to access cliff.  Given the low chance of natural recolonisation Steve located a possible colonisation site and with a small paint brush transferred some of the spores from the sporodochia to this new site nearby. We must now await patiently the outcome.
Update December 2013. Alan Hale and Ray Woods visited the site and found the colony still well attached.
Proposed Actions
UKBAP Signposting Actions:
| | |
| --- | --- |
| 1. | Maintain continuity of old Oaks.  In the east of the species range the continuity required is known to be over 400 years. This means retaining Oak trees to their natural death. |
| 2. | Prevent over-shading from rhododendron, beech, holly, and ivy.  Some problems have been caused by cessation of traditional grazing |
---
NBN Taxon Key
NBNSYS0000039584