Description & Identification
When moist the paper-thin lobes of this cyanobacteria-containing foliose lichen resemble leaf gelatine. It shrinks little when dry. The individual lobes are shiny, lead-grey in colour and concave with their margins ascending creating an ear-like shape about 1cm across. Both the upper and lower surfaces are smooth and lack any fuzzy tomentum. There are no isidia and apothecia are frequent. This combination of characters distinguishes this species.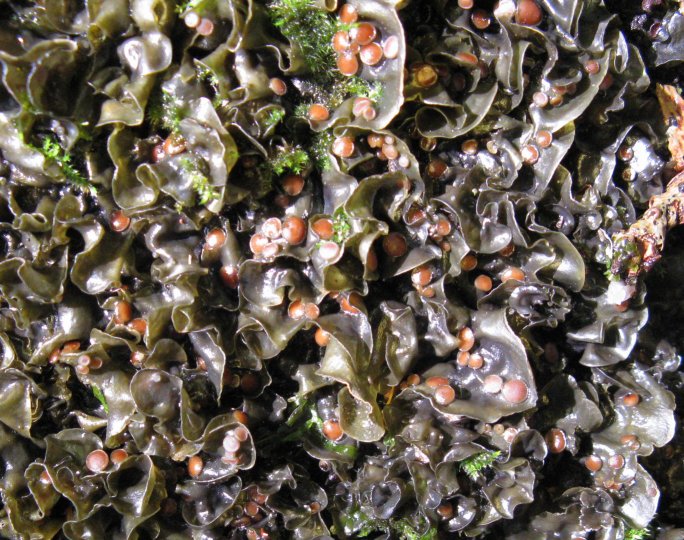 Photo: Alan Orange
Habitats
It occurs on mossy trunks and branches of somewhat basic barked trees such as hazel and ash in humid woodlands and occasionally on basic rock outcrops in sheltered ravine woodlands.
Distribution
There are no recent records from Wales. It was last seen in 1989 on a tree base in a flushed area of an ash, oak and hazel wood in a north to south ravine to the west of Dolgellau. A recent search failed to relocate it. There is a record from SH46 with no other details in the BLS database and a record from near Barmouth in 1860. Elsewhere in Britain it occurs rarely in Western Scotland and from a single locality in Cumbria. There is an old record (date unknown) from Whitcliff Rocks near Ludlow. This site supported a number of notable lichens that sadly too cannot be refound. It also occurs in the west of Ireland. Smith et al (2009) reports its world distribution as cosmopolitan but Brian Coppins (pers. comm.) considers it to have a much more limited distribution as an Atlantic-Mediterranean species that just reaches Norway on a few old ash pollards and is also found in Macaronesia, E. Africa and possibly also from India.
Threats and Status
This species is probably exceptionally susceptible to acidic atmospheric pollutants. Acid rain may well have greatly reduced the area of habitat available to it. Despite being regularly fertile it lacks any obvious vegetative forms of reproduction. The past clear felling of woods may also have eliminated it from large areas of Wales. Within Britain and Wales it is considered to be vulnerable. It is clear that its Welsh status should now be re-evaluated and critically endangered may be more appropriate.  British populations may be of international significance.
NBN Taxon Key
NBNSYS0000018773