Common Name(s)
Cilate Strap-lichen / Y cen Rhuban Blewog
Description & Identification
Heterodermia leucomela is a rather inconspicuous fruticose lichen which forms loose tufts up to 10cm across.  The grey-white thallus is highly dichotomously branched, the branches being between 3-5mm in width. The margins of the branches are lined with many black  cilia or "whiskers" up to 5mm long. The lower surface ihas a broad, white, slightly sunken channel along the centre, which appears slightly rough under a lens due to the lack of a cortex here. This is in contrast to the smooth raised margins on each side. Apothecia have not been observed in British material.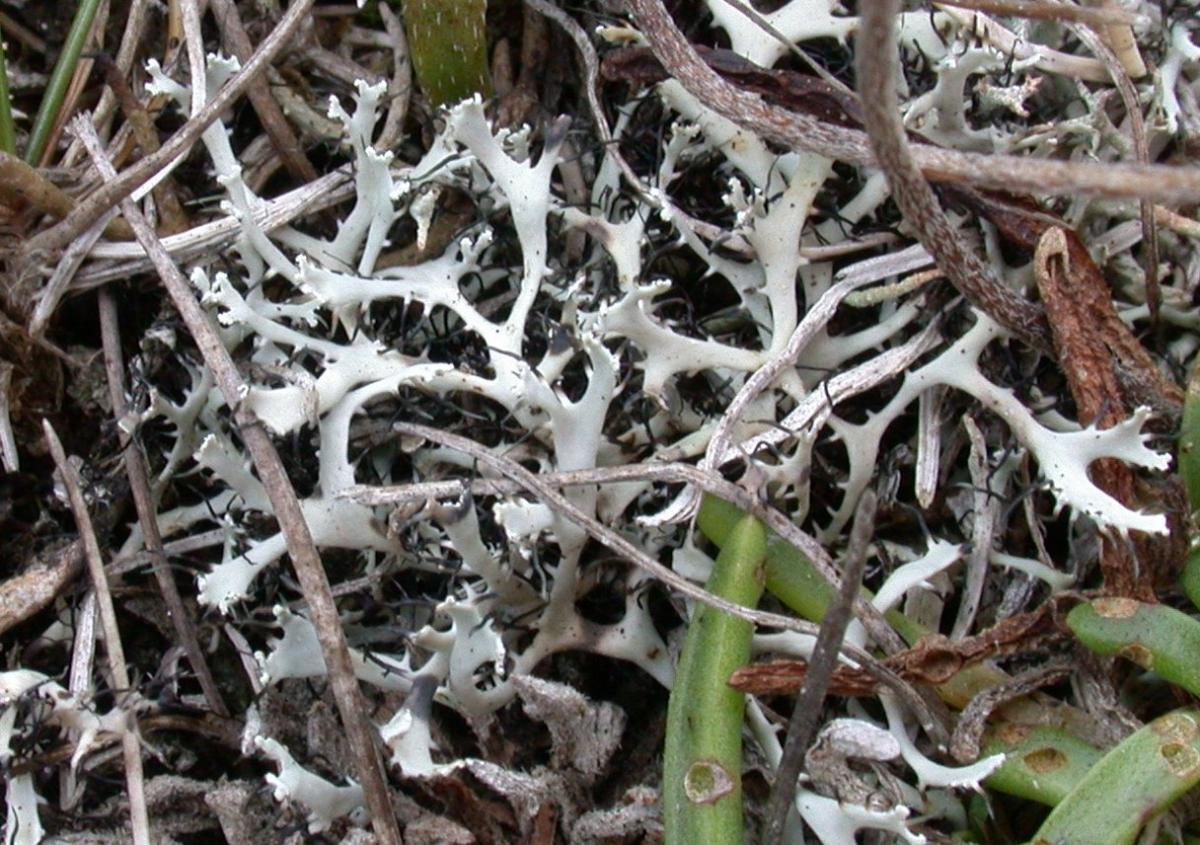 Photo: Alan Hale
Similar Species
H. leucomela can superficially appear similar to several of the shrubby Cladonia species, and to some species of Physcia that are similar in colour and have dark cilia. However, on closer inspection these are all quite distinct. It is hard to confuse this species with any other British taxon.
Habitats
Amost exclusively found on exposed coastal cliffs in short turf on thin soil, or more rarely on low rock outcrops. It is usually associated with other lichens, and bryophytes, which it often uses to attach itself to. It has rarely in the past been found on trees (the Flora says wayside trees, Bryan Edwards says "trees in ancient woodland or parkland").
Distribution
Heterodermia leucomela is widespread in tropics and sub-tropics, reaching it's northern limit in Britain. It has a southern-oceanic distribution in Britain and Ireland, being restricted to south-west England, West Wales and south-west Ireland.
H. leucomela is currently known from 5 sites in Wales, in 5 different hectads. Historically it was first recorded in Wales in 1895 by J.E. Griffiths who found it near Rhoscolyn on the west coast of Anglesey. In more recent times there are records from Bardsey and near Aberdaron on the Lleyn Peninsula. A survey in 2001 rediscovered the species on Anglesey and found healthy populations on the tip of the Lleyn Peninsula (Edwards, 2002). The Bardsey populations are part of a long term monitoring project. In 2004 the species was recorded for the first time in Pembrokeshire at St David's Head, and in 2005 it was found in some quantity further south at Stackpole Head. It's Anglesey sites are the northenmost in Europe.
Records from Wales
Location
Grid Reference
Year Last Rec
Recorder
SSSI
Anglesey: Rhoscolyn Head
SH 2574 7552
2002
B. Edwards
Yes
Anglesey: Penrhosfeilw Common, Penrhyn Mawr
SH 2118 7959
2002
B. Edwards
Yes
Caernarfon: St Mary's Well, Lleyn
SH 1387 2521
2003
A.D. Hale & T. Dines
Yes
Caernarfon: Trwyn y Gwyddel
SH 1399 2506
2003
A.D. Hale & T. Dines
Yes
Caernarfon: Slopes of Mynydd y Gwyddel
SH 1413 2490
2003
A.D. Hale & T. Dines
Yes
Caernarfon: Ynys Enlli, above Pen Cristin
SH 1218 2122
1992
A. Fletcher
Yes
Caernarfon: Ynys Enlli, southern tip, western side
SH 110 204
2001
A. Fletcher
Yes
Caernarfon: Ynys Enlli, southern tip, eastern side
SH 114 207
2001
A. Fletcher
Yes
Caernarfon: Ynys Enlli, southern tip, western side
SH 12 21
2001
A. Fletcher
Yes
Pembroke: St. David's Head
SM 724 280
2005
A.D. Hale & R.G. Woods
Yes
Pembroke: Saddle Point, Broadhaven
SR 981 940
2005
R.G. Woods
Yes
 
Threats and Status
 H. leucomela has always been a rare species in Britain. Numbers of populations in Wales have actually increase in recent years, probably due to increased awareness of the species and effort focused on looking for populations. It is listed on Scheduel 8 of the Wildlife and Countryside Act 1981 as being in need of special protection, and is on both the UKBap and Wales Section 42 lists.
Proposed Actions
 
UKBAP Signposting Actions:
1.

 

Monitor the habitat and species (along with Pseudocyphellaria aurata with which it grows*), at a sub-set of extant sites, at least every 6 years, to ensure that grazing and shrub control management maintains open nature of maritime heathland and grassland and modify accordingly.
2.
Encourage survey for this species and incorporate new sites into the monitoring and management framework.
* Not in Wales.
NBN Taxon Key
NHMSYS0001484074
References
Edwards, B. (2002). The current status of Heterodermia leucomela (L.) Poelt in Wales. Plantlife Report
Hale, A.D. (2003). Heterodermia leucomela sites on the Lleyn Peninsula. CCW internal note (with location photographs).
Hale, A.D., Sutton, M. & Woods, R.G. (2005). Heterodermia leucomela (Ciliate strap lichen) at St. David's Head, Pembrokeshire. CCW Staff Report.
Rose, F. (1998) Heterodermia leucomelos. Species account 558/1998 in the third fascicle of the Lichen Atlas of the British Isles produced by the British Lichen Society, London.