Description & Identification
This is one of the foliose jelly lichens containing cyanobacteria. There are two genera with foliose species ie Collema and Leptogium. The former tend to be dark kaki coloured and form rather thick pulpy lobes when wet whilst the latter when wet or dry are normally relatively thin. L. brebissonii when dry is unmistakably a Leptogium with its thin minutely wrinkled blue-grey thallus. If in any doubt it may be necessary to cut a section through its thallus.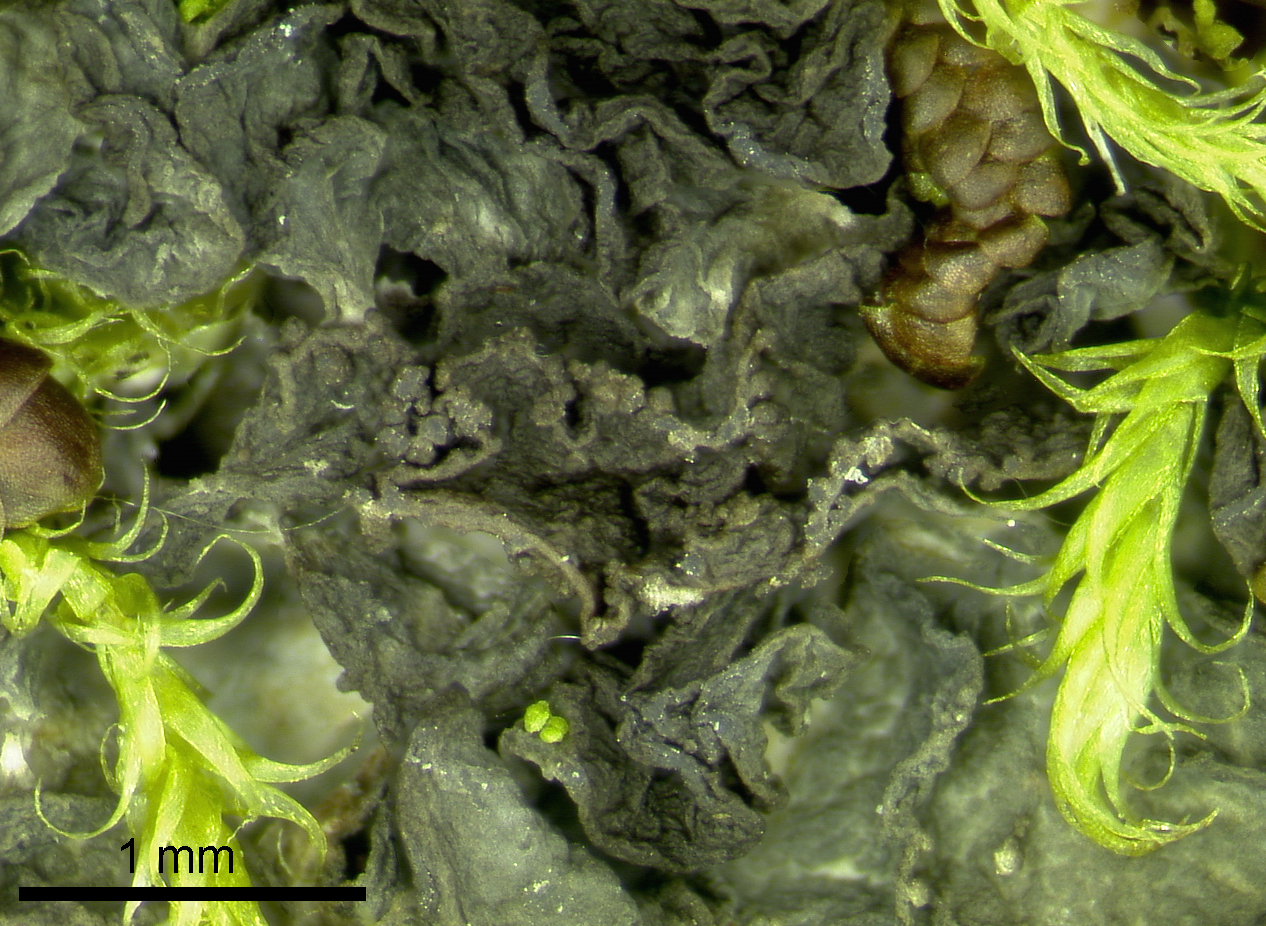 Photo: Alan Orange
Leptogiums have a characteristic well-differentiated cellular cortex to the thallus. Once established as a Leptogium this species has lobes that are thin and blue-grey when dry and become more swollen and dark green-brown when wet. In both conditions they are strongly but minutely ridged. Tiny granular concolorous isidia are scattered over the thallus but are concentrated on the lobe margins. Apothecia are unknown in Britain. L. hibernicum can be separated by its tomentose lower surface but has yet to be recorded from Wales. (RGW)
Habitats
It grows on mossy trees in woodland and sheltered parkland.
Distribution
There are three recent Welsh records, all from the Mawddach Valley north of Dolgellau, Meirionydd. Steve Chambers noted it on an ash tree in sheltered parkland at Dolmelynllyn north of Dolgellau in 2001 whilst Alan Orange recorded it nearby on a willow in the walled garden of Dolmelynllyn in 2011. Also in 2011 Ray Woods noted a single colony on a 5cm diam oak tree branch growing with Isothecium myosuroides, Frullania dilatata and Sticta sylvatica on the right bank of the Afon Mawddach below Rhaeadr Mawddach in the Coed y Brenin Forest. Pentecost (1987) notes it from the additional grid squares of SH 61 and 71 with no further details. It may not occur in England. Whilst there is a10km square record from Devon shown in Dobson (2005) Benfield (2001) does not report its presence in the county. It occurs widely in western Scotland and also in western Ireland. Smith et al (2009) reports its world distribution as cosmopolitan but Brian Coppins (pers. comm.) considers it to have a much more limited distribution as a South West Atlantic species that does not reach Scandinavia that extends into E. Africa where it is apparently rare. There are reports from the S. Hemisphere, but it is likely to have been confused with other similar species such as L. coralloideum. (RGW)
Threats and Status
Past woodland management and past and present acidic atmospheric pollutants have probably reduced the extent of this species. The cessation of grazing in many woods leading to the growth of evergreens such as ivy, holly and Rhododendron that shade it out may also threaten it. Hydro electric proposals may affect one site.
 Due to its widespread occurrence in West Scotland its British conservation status is assessed as near threatened, whilst in Wales it is considered to be vulnerable and may indeed be more appropriately placed in the endangered category. British populations may be of international significance. (RGW)
NBN Taxon Key
NBNSYS0000018769
References
Benfield, B. (2001). The Lichen Flora of Devon. Privately  published.
Dobson, F.S. (2005). Lichens An Illustrated Guide. Richmond.
Pentecost, A. (1987). The Lichen Flora of Gwynedd. Lichenologist, 19, 1-97.