The evidence for a recent range expansion of Usnea articulata in South Wales continues to gather strength. Sam Bosanquet has produced this report on his recent finds of this S42 species.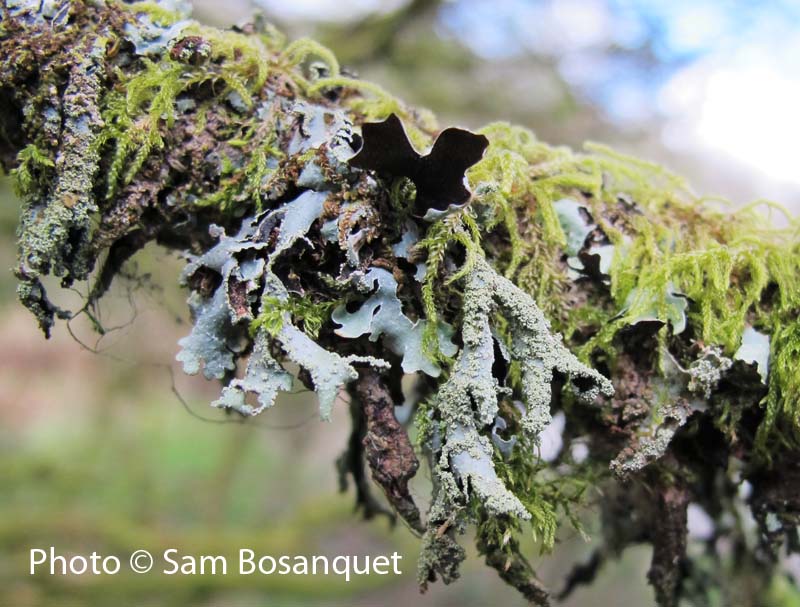 Parmelia submontana is a foliose lichen characterised by long, pendent lobes folded into a tube, and by coarse soredia. Until very recently was unknown in Wales, and it was only discovered in Britain for the first time in 1991 (in Scotland, where it is now known from two sites). In Autumn 2011 it turned up in Devon, which suggested it might also be lurking undiscovered somewhere in Wales.
The eagle-eyed and indefatigable Sam Bosanquet of the Countryside Council for Wales had read about P. submontana in one of Sandy Coppins' lichen reports in British Wildlife magazine, and was on the lookout. He was rewarded in ealy April this year when he discovered it on willow and sycamore at a site just outside the boundary of the Brechfa Forest east of Gwernogle, Carmarthenshire. It was growing here in some abundance, as it apparently does at its other British sites.
This is a very distinctive species and well- worth keeping a lookout for in other parts of Wales. Its habitat requirements are not clear-cut: It is described as boreal-montane and is mostly known outside Britain from montane regions of Europe, Macaronesia, Asia and Africa. In Britain it has been found in upland wayside or open-woodland situations on beech, willow and sycamore, but also on gravestones and wooden garden tubs! The Devon record was from "ten willows in a boggy valley on Dartmoor.
I'm in the process of completely redesigning this website, to make the site more useable and the information contained within it more accessible. The revamp also involves removing content such as species accounts, and other resources that might be of widespread use, from the current lichen apprentices website, and maintaing the latter as a separate site, accessible only to registered users (i.e. apprentices and trainers). This will allow blogging and discussion forums to take place there in a "closed space".